NEWS & EVENTS
mans students get active in fundraising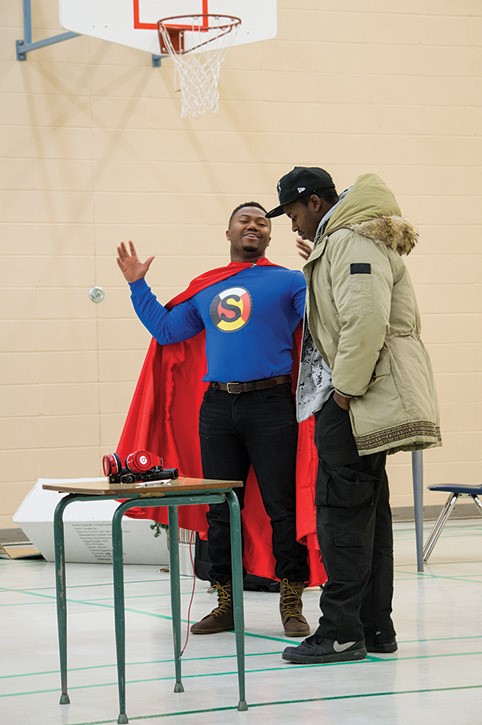 When Pastor Lyle Notice, Assistant Director of the Alberta Conference Youth Department, donned his super hero cloak and brushed up his acting skills to launch SUPER MANS (Small Useful People Expanding Resources for MANS), he brought both fun and food for thought to assembly period at Mamawi Atosketan Native School.
The students enjoyed the antics of SUPER MANS and his sidekick Luke Bannis, who played a student facing the challenges many MANS students face. The MANS family responded enthusiastically to the invitation to participate in fundraising for their new school.

SUPER MANS, an entrepreneur-style initiative of the Alberta Conference, encourages kids to use their power to do good by investing and growing a "seed grant" to help build MANS' new high school. The purpose of the new school building is to allow First Nations kids who attend the one of a kind (but over-crowded) school to stay in the unique environment that fostered their success, and thus increase their chances of completing high school.

While SUPER MANS' purpose is serious, SUPER MANS has a playful side. "SUPER MANS is also a superhero that helps kids realize they're not alone and that they can make a difference," said Pastor Lyle. "They have the power to do good. If SUPER MANS helps them to realize that, I'll play SUPER MANS all day long!" he smiles. The event was covered by The Lacombe Express (Dec. 17 issue).

MANS students and their families are already getting involved. The first SUPER MANS fundraiser will be held January 28—a hot lunch put on by the Grade 4 class that's open to the entire school community. Teacher Russ Nielsen began brainstorming fundraising ideas with the class immediately after SUPER MANS' appearance, and organized the class to help with food preparation, lunch delivery, and cleanup.
working together to give back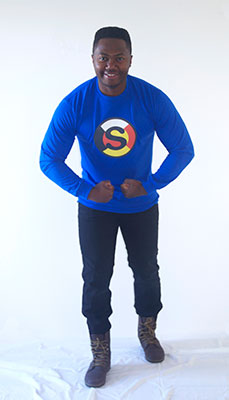 MANS kids learn early about working together to give back to the communities outside their reserve. Check out these videos and opportunities to meet SUPER MANS Lyle Notice at events around Alberta.
MANS and SUPER MANS – Catch a glimpse of the super hero during his appearance at the school that started it all, and what MANS students think about raising funds for their new school (video section

).

Typhoon Haiyan and the Return of the Cupcakes - See MANS students in action, baking and celebrating their contribution to a humanitarian effort in the Philippines (video section

).

Total Praise Performs at GC-NAD Meetings - cell phone video taken in Washington, DC features a song later performed by MANS students together with Burman University students in the Nov. 6 concert that raised over $2,000 for the Maskwacis Adventist church on the Samson band reserve (video section)
take a selfie with super mans!

Then send it to him at lnotice@albertaadventist.ca to post on the SUPER MANS section of www.mans1.ca

SUPER MANS will be appearing at:
Pathfinder Winter Retreat, Foothills Camp (January 29, 2016)

Teen Youth Rally, Foothills Camp (February 26, 2016)

Adventurer Family Camp, Foothills Camp (May 6, 201)

Canadian Adventist Youth Summit, Burman University (May 11-14, 2016)

General contractor selected

Calgary contractor William Piersanti has been selected to oversee the construction of the new high school building at Mamawi Atosketan Native School. Piersanti, who has been involved in the construction of several schools, was able to reduce the anticipated cost of two classrooms constructed in 2013-14 at the existing school by $160,000. The two classrooms now house Grade 1 and the computer lab.

mans student at asi Convention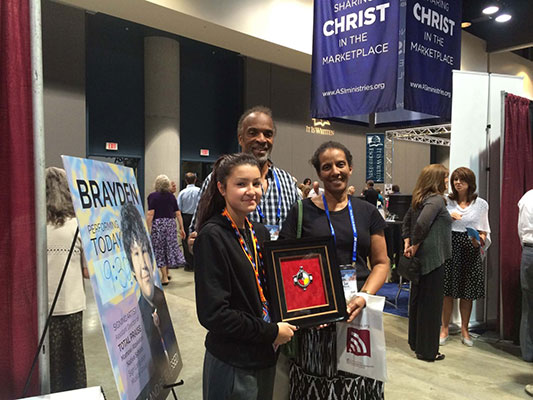 ASI attendees Simeon & Suzann Maycocks (Michigan) were ecstatic to win a MANS medallion by beadwork artist and entrepreneur Krista Abt (Gr. 11) in MANS' closing night draw. It is rare for Adventist-Layman's Services and Industries to award a grant to a first-time applicant, but MANS was awarded $20,000 US.





MANS FIRST PRINCIPAL/TEACHER SPEAKS AT CAMPAIGN LAUCH

On August 1, Sandra Kiehlbauch Toms helped launch the Bridge Campaign at Foothills Camp near Bowden, Alta. Toms recalled the difficulties of opening with 17 students, and contrasted it with what she saw when she attended the Milestone Celebration Openhouse in April, 2015. Part of her speech—"The 1-2-3 Principal"—is reproduced below.

In this envelope I have three pieces of currency, there is a one, a two, and a three.

One. Because it always starts with one. One dream. One prayer. One God. One equals pure potential! Raw unbridled energy.

But one by itself is lonely. It longs for two. Two for conception. Two for conversation. Two who work together in harmony on a common goal, The Bible speaks of the power of two.

But the real magic happens when you add three and more.

Look what's happened at MANS. Ed Desjarlais had a dream, I had a skill. Marlene Sinclair, my teacher's aide, had experience with the culture. Pastor Van Diemen had dedication, as did Linder Calderbank who carried the school through the second year.

Because of the trust of parents, support of the Conference, skill of the teachers, and the support of many who have added their love, MANS has become what it is today. But I guarantee none of it would be possible without the prayers of every single "one".

Sometimes it seems like our contribution is not much. But one tiny pebble can produce effects that ripple forever.

Please join me in supporting the expansion of Mamawi Atosketan and its new high school.

--Sandra Kiehlbauch Toms

Welding camp confirms interest in industrial Arts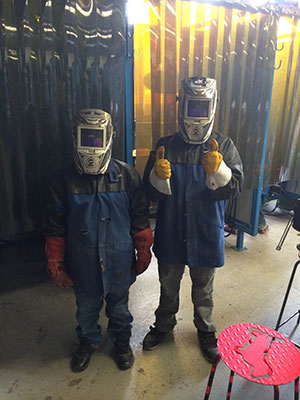 "I wanna weld!" beamed Dylan, a grade 6 MANS student, after attending "Mind Over Metal," a five-day welding summer camp, with assistant principal Mike Willing. The Edmonton camp, sponsored in full by the Canadian Welding Association, brought together 20 students from grades 6-9 from the northern part of Alberta, including five from MANS.

"Welding is actually fun," affirmed Dylan's classmate, Wayne. Their enthusiasm comes as no surprise for Deborah Mates, Director of the Canadian Welding Association Foundation.

"We're seeing kids that didn't have a direction get inspired," says Mates. "It's changing lives." It's not uncommon, she says, for 18 of the 20 students to want to continue with welding. They see a reason to continue through high school to get to apprenticeships.

It was a win-win venture: the CWA wants to encourage students in a trade with a shortage, and MANS got to gage student interest in Industrial Arts. Recognizing the potential to foster student talent, the CWA is partnering with MANS, investing cash and expertise to create an Industrial Arts Center in the new high school building.

"The camp was an absolutely fantastic opportunity for the students," says Willing. "The instructor's enthusiasm just spills over!"

It's an excitement that lingers. "My son loved this camp," wrote parent Kristen "Krissy" Omeasoo in a MANS Facebook post after her son returned home with his welding camp certificate. "He keeps talking about welding. We were both very happy he got to experience this with the school and other fellow students."

For Mates, the camp was a success on several levels. "Just having someone say 'You did a good job'" she smiles, "You can see them light up."


Awards day 2015

In the MANS gymnasium, the line for Awards Day assembly was impressive—girls in fancy dresses and boys in ties waited alongside classmates in traditional regalia as they chattered in anticipation. Parents with cameras contributed to the buzz at MANS on the last day of school in June.

From the opening moments to the very special award created by the staff—the Outstanding Achievement Award—students are reminded that building character is what will set them apart now and into the future.

The parents of Larissa Roasting-Raine were among those who snapped photos and beamed as their children were called forward to receive a "Well done!" from Principal Gail Wilton. Some parents, like Larissa's, became regular participants themselves in the ceremonies, popping up three or four times as their child was recognized and photographed with the principal. To make areas for improvement easier to work on, three categories are rewarded: High Academic Achievement (Honour Roll), Attendance (90% and above), and Citizenship. If a student is awarded all three, the special Outstanding Achievement Award is cause for major rejoicing.

"Larissa loves it here," said her father. Her positive example is making an impression on her pre-school sisters, who handled Big Sister's awards as she passed them back for safekeeping. Larissa loves MANS so much, her father confided, that she gets upset when a snow day or other circumstances keep her from school.

Larissa isn't alone. Several students had a perfect attendance record, but that distinction earned one Grade 7 student a special honour. While all five of the top honour winners are distinguished in their academics, attendance, and citizenship qualities, Shaneek Roasting's perfect attendance, combined with the other recognitions, garnered the top award of the day.

Grade 6 teacher Cheri Notice provides insight into the habits and values these top award students are internalizing.

"Jahleel [Roasting, pictured above, Outstanding Achievement Award] is a motivated student who works very hard to not only complete assignments but understand them. It is this love of learning that drives him to be the best in everything he does," says Cheri. "From the basketball court to the classroom to being a caring big brother, Jahleel excels. He is very proud of his Native heritage and family, and this drives him to want to make his family and community proud."

MANS provides its students with much more than classroom education—students develop personal skills and tools that build character, integrity, and the ability to make good choices. Students' families are involved in the school and the school is involved with their families. MANS succeeds by creating a supportive and rigorous alternative learning environment where a distinctly Cree culture is shared and thrives. To all of our students: "Well done!"

Pictured: Jahleel Roasting, Grade 6, receives his Outstanding Achievement Award, which includes a new bike, from Principal Gail Wilton.



MANS GRADUATES FIRST GR. 12 CLASS WITH $26,000 IN SCHOLARSHIPS

MANS graduated its first Grade 12 class on Thursday, May 28. Frederick Crier-Jamerson and Coralie Nepoose are the school's first high school graduates. Together, Crier-Jamerson and Nepoose were awarded more than $26,000 in scholarships to continue their educations at university or other post-secondary institutions.

Crier-Jamerson and Nepoose, who have attended school together since kindergarten, are "happy and excited" to be graduating as part of the school's newest milestone. When asked what advice he would give to younger students about staying in school, Crier-Jamerson said "It's always better to have an education." In her valedictorian speech, Nepoose emphasized that "Education is the key to everything."

The families of the graduates attended in support of their success and aspirations. "I didn't believe you three years ago when you told me my daughter would graduate from high school and go on to university," Nepoose's father, Levi Nepoose, told MANS principal Gail Wilton. "Because of this school and the scholarships, we can see it's actually going to happen."

The graduates and their families are glad that MANS added the high school classes that allowed the class of 2015 to fulfill university and trade school entrance requirements.

MANS began adding high school classes one grade at a time in the 2012-13 year even though that meant admitting fewer students due to space limitations. A recently-completed addition to the existing facility, added through generous donations of labour from Camrose Rotarian Ron Grue and Calgary contractor William Piersanti, created enough additional space to allow Crier-Jamerson and Nepoose to finish high school in the unique environment that has fostered their academic success.

MAKING NEWS: READ ABOUT US (click below)
Camrose Canadian
Ponoka News
Wetaskiwin Times





​MILESTONE CELEBRATION & OPEN HOUSE

This year, the first Grade 12 class will graduate from Mamawi Atosketan. The current high school completion rate among First Nations youth is 39%. MANS is dedicated to changing that for our hand-picked students. We are on our way to becoming a model of First Nations education noted for exceeding and changing expectations.

The Alberta Conference wishes to acknowledge and thank those who supported Mamawi Atosketan Native School in the building project of 2003. Please join us and other Founders of Canada's Mission School for a special recognition during the annual Open House and The Real SDA Founders Thank You Ceremony, as we thank the men and women who had the vision to construct the school that has made this Milestone possible.

All are welcome. If you contributed in any way with labour or cash to the construction of MANS' present building, please contact the Alberta Conference office: 403-342-5044 Ext 233.

MAKING NEWS: READ ABOUT US (click below)
Camrose Canadian
Lacombe Globe
Ponoka News
Wetaskiwin Times
________________________
Additional links on this topic: